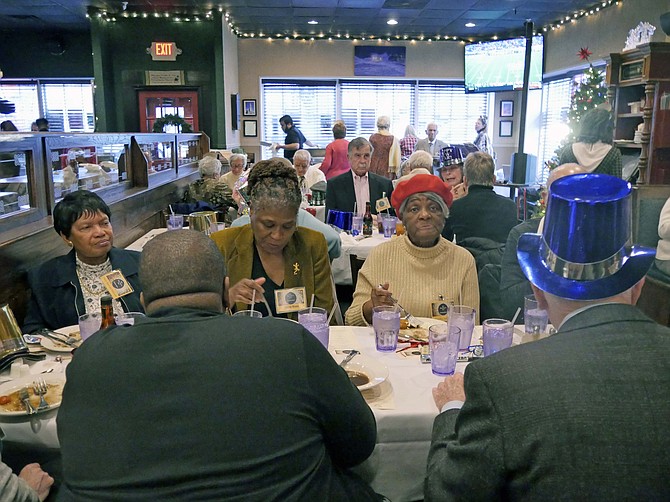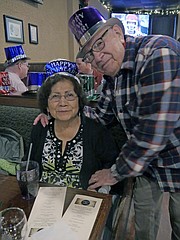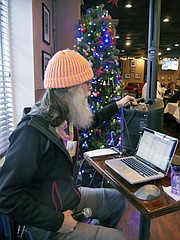 "Anybody want more fish?" Michael McMahon in his Irish brogue asks the crowd of 70 seniors who have come to the 55+ New Year's luncheon on Dec. 31. McMahon came to the United States from Ireland in 1987, and has been one of the owners of Celtic House Irish pub on Columbia Pike for four years.
Tables are packed with seniors wearing shiny multi-colored New Year's top hats and warming up to the music being played by DJ Sam Fanelli and his wife Kat for the dancing that will start after lunch. Milton Nelson stands with a microphone in his hand ready to MC the event. Fanelli says, "Milton's here to tell the jokes, but no one gets them."
Carlos Martinez has salad on his plate and has come back to the buffet line for another helping of fried cod. "One or two? Tartar sauce? Lemon?"

Martinez replies, "Give me three." Others start at the end of the buffet with a helping of shepherd's pie covered with a blanket of mashed potatoes and then head for the Guinness beef stew.
Forty-five silent auction items are arranged at the side of the room, including Amazing Grace spray, an Italian ceramic bowl, round memo board and auto trunk storage.
While this is the first year for this event at the Celtic House, the Senior Adult Council, the Alliance for Arlington Senior Programs, and the Office of Senior Adult Programs have been sponsoring these New Year's Eve luncheons for over 10 years at different locations around Arlington.